ONCOPLASTIC ISSUES RELATED TO ADVANCES AND CONTROVERSIES IN BREAST CANCER MANAGEMENT
 (published in Oncosurgery)
 
Marek K. Dobke, M.D.
Anne M. Wallace, M.D.
 
 
Division of Plastic Surgery, Department of Surgery,
University of California San Diego
 
Corresponding author:
Marek Dobke, M.D.
Division of Plastic Surgery UCSD
200 West Arbor Drive
San Diego, CA 92103
USA
e-mail: mdobke@ucsd.edu
Page 2
ABSTRACT
The overview of current diagnostic and therapeutic advances and controversies in the management of breast cancer is presented. Specific topics and their impact on breast  reconstructive surgeon approaches are discussed in detail. They include: prophylactic mastectomy for women at high risk of breast cancer, size and location of the primary tumor and feasibility of breast conserving surgery and oncoplastic approach, management of the axilla, postmastectomy radiation and chemotherapy, emerging breast reconstructive techniques (fat transfer, stem cells) and cancer risk, oncological follow up and imaging of the reconstructed breast. Presented material should help an oncological and plastic surgeon specialists to understand each other considerations for the best possible outcome of the breast cancer treatment.
Page 3
In 1980s the indications for breast reconstruction were liberalized as a result of increasing experience with the various procedures, including microsurgery, development of implants and tissue expanders designed for breast reconstruction, recognition of the beneficial psychological effects of immediate breast reconstruction, and most importantly due to the clinical evidence that reconstructive procedures did not impact negatively results of mastectomy (at that time the mainstay of the primary breast cancer treatment) (1, 2).
However, the natural evolution of breast cancer development risk assessment, diagnostic and surveillance methods, development of breast conservation strategies, changes in the design of comprehensive breast cancer management necessitate ongoing evaluation of reconstructive approaches to ensure that reconstructive approaches do not hinder cancer detection or treatment as those modalities may be changing. Issues controversial yesterday are not controversial today and new questions are emerging. Question "to reconstruct or not to reconstruct ?" itself was a controversy yesterday (2).  Notably, practice guidelines for the treatment of the breast cancer do not include details of reconstructive recommendations (3). Reconstructive approaches vary from a surgeon to a surgeon, from a center to a center. This overview is an attempt to update discussion of current diagnostic and therapeutic advances, "old" and newer controversies and their impact on reconstructive approaches (4).
PROPHYLACTIC MASTECTOMY FOR WOMEN AT HIGH RISK OF BREAST CANCER
A women is considered to be at high genetic risk for the development of breast cancer if she has a BRCA1 or BRCA2 mutation or her family history suggests an autosomal dominant pattern of inheritance (5). Women with breast malignancy who present at a young age or have relatives affected by breast cancer should consider testing for BRCA1/2 mutations. Breast cancer prevention measures for these women include ovarian ablation, Tamoxifen administration, bilateral prophylactic mastectomy, and a variety of new agents entering clinical trial (6). It is a difficult decision whether to undergo prophylactic bilateral mastectomy to reduce the risk of breast cancer in general as well as  it is difficult to decide regarding contralateral mastectomy in an effort to decrease the risk of a second cancer. However, regarding the latter, recent evidence indicates survival advantage by prophylactic mastectomy in addition to therapeutic mastectomy (7).  Regarding prophylactic simple or skin-sparing mastectomy: since all forms of mastectomy "leave behind" some breast tissue it should not be a surprise that subcutaneous mastectomy, in which the nipple-areola complex is preserved along with a small layer of nipple-areola  supporting breast tissue, is associated with a greater risk of development of breast cancer than with the total or skin sparing mastectomy (8). Consequently "more aggressive" forms of prophylactic mastectomy should be recommended to high risk women: total mastectomy, which involves the removal of
Page 4
breast tissue, nipple, areaola, and the axillary tail is generally considered the preferred procedure for prophylactic mastectomy (9,10). Currently, a prophylactic mastectomy is often followed by immediate breast reconstruction (10,11).
From the standpoint of breast reconstruction, identification of high risk patients is important. For example, if a patient with a breast cancer undergoes unilateral postmastectomy reconstruction (e.g., with a TRAM flap), the same anatomical unit is not available for the contralateral side should the patient undergo prophylactic mastectomy following testing positive for BRCA1/2 mutations after initial surgery. Results of bilateral reconstructions, whether accomplished by means of pedicled or free TRAM flaps, latissimus dorsi and/or implants, are superior if same technique on each side is utilized to ensure maximum symmetry (Photograph 1 and 2).
SIZE AND LOCATION OF THE PRIMARY TUMOR AND BREAST CONSERVATION VIA CUSTOMIZED PLASTIC SURGERY APPROACHES
Conceptually, the treatment of breast cancer (except lobular carcinoma in situ, LCIS) includes the treatment of local disease with surgery and/or radiation therapy and the treatment of systemic disease with cytotoxic chemotherapy and hormonal therapy.
The trend in breast cancer surgery is toward less radical and disfiguring procedures that will not compromise the treatment of cancer. Configuration of incisions, as long as they provide an adequate margin and include lesion biopsy site should not influence the outcome. Small, in particular centrally located  breast cancers can be removed utilizing "wise-pattern" breast reduction type of incisions with a tumor-directed segmental mastectomy (Photograph 3) (12). Lower quadrants tumors can easily be removed via "vertical" mammaplasty techniques.  Both these techniques allow relatively large  tumors in large breasts to be removed with good cosmetic results. Finally, upper outer quadrant tumors can be removed by single axillary incision for quadrantectomy, axillary clearance and reconstruction with a latissimus dorsi flap (13).
Reconstruction of deformities after breast conserving surgery is not always "ablative" surgeons concern (14).  Therefore, an ability to repair a defect by a local flap or to replace a missing breast tissue segment with a latissimus dorsi flap, or to restore symmetry by adjustment of the remaining breast contour by a plastic surgeon, raises a question who should be a primary surgeon for these patients. Perhaps a plastic surgeon familiar with oncological issues would not be a bad choice ? (14,15,16).
Skin-sparing mastectomy is typically defined as removal of the breast, nipple-areola complex, previous biopsy incisions, and skin overlying superficial tumors. The cosmetic outcome significantly improves with the preservation of the skin envelope in general and the inframammary crease in particular (17,18). Regarding skin-sparing mastectomies; they are currently performed predominantly in patients with in situ, T1, or T2 lesions. Skin-sparing mastectomy and immediate autologous tissue reconstruction is an accepted
Page 5
method of managing primary malignancies with very good aesthetic outcomes. Could this approach be utilized for the previously irradiated breast ? Preliminary observations indicate that skin-sparing mastectomy and immediate autologous tissue breast reconstruction can be safely performed in patients with previous whole-breast irradiation (Photograph 4)(17).
The next step in improving aesthetic outcomes is to preserve the nipple-areola complex. However, whether the nipple-areola skin-sparing mastectomy should even be an option for patients is questionable (19).  Based on results of the study examining the incidence of areolar and nipple malignant involvement separately, it was concluded that because the areolar complex is much less frequently involved than nipple itself (which was found to be involved as high as in 10.6 % of patients !), only the areola should be spared (20).  Even if the nipple-areola complex is preserved, the removal of subareolar tissue may devascularize the native nipple-areola complex, possibly leading to localized fibrosis, retraction, contour distortion, loss of pigment, and ultimately to inferior cosmetic result than that by reconstruction de novo. Similarly, nipple dissection in the plane between dermis and ducts, to remove a core of ducts tissue out of the nipple's center, practically leaving nipple remnant as a full-thickness or composite graft, may remove all risk-bearing ducts, but may also substantially thin the nipple and adversely affect its viability (21). The specimen of the nipple ducts tissue should be subjected to a separate histopathological assessment and if malignancy is found the nipple has to be removed.  Alternatively, proposed cryopreservation of autologous nipple-areola complex which allows (since there is an "unlimited" period of time) proper histological evaluation of nipple-areola complex to confirm tumor-free status, puts the long-discredited concept of nipple-areola preservation by banking at the time of mastectomy for invasive cancer and reconstructive options into new perspective (22).  In addition, to oncological concerns, aesthetic outcomes will help to answer the question whether cryopreservation offers advantage over techniques using de novo nipple reconstruction ?
Breast conservation via customized plastic surgery approach may require advanced lesion localization techniques, e.g., multiple needles, intraoperative ultrasound to localize hematomas persisting after percutaneous-stereotactic (in particular vacuum assisted), breast biopsy (23). Actually, intraoperative hematoma-directed ultrasound-guided operative technique (during biopsy or breast conserving lesion excision) as an alternative to techniques relying on needle localization of the clip (which may migrate) may have superior results (24). Clip migration leading to imprecise lesion removal may contribute to positive margins which may be of great oncological significance if breast conservation via customized plastic surgery approach is utilized. Simple reexcision of tumor containing area may be difficult due to rearrangement of the breast tissue anatomy (25). Potentially reducing reexcision and problems related to margins and malignancy site orientation, post-lumpectomy cavity shave margin removal may be helpful to a reconstructive surgeon diminishing the probability of need for reconstruction revision for oncological reasons (26) Similarly, neoadjuvant chemotherapy in early-stage breast
Page 6
cancer, which has been shown to increase the number of candidates eligible for breast conservation surgery, requires marking the shrinking lesion prior to surgery (27).
 
MANAGEMENT OF THE AXILLA IN OPERABLE BREAST CANCER TREATED BY BREAST CONSERVATION AND BREAST RECONSTRUCTION
The appropriate management of the axilla patients with T1 and T2 breast cancer treated with breast-conserving therapy and the extent of the axillary dissection in patients with invasive cancers have been a topic of controversy for years (28,29). Such questions as: "What is the appropriate extent of axillary dissection ?", "Is axillary dissection alone sufficient to control the disease ?", "Could axillary irradiation suffice ?", and "How can the morbidity of axillary surgery be minimized ?" remain unanswered.
Sentinel node biopsy whereby the first lymph node draining a specific tumor is isolated and removed is a technique become the standard in breast cancer management (30).  Therefore, the reconstructive surgeon could add to this list of questions another one: "Whether certain reconstructive techniques, for example, transfer and passage the latissimus dorsi myocutanous flap through the axillary region, impacts the oncological surgeon's ability to follow with periodic axillary examinations or detection of the rare, however possible, axillary recurrence ?" (28,29).
POSTMASTECTOMY RADIATION AND CHEMOTHERAPY
The increasing use of radiotherapy after mastectomy, including partial mastectomy, has significant implications for breast reconstruction. In general, there is a consensus that the combination of radiation and implants is associated with greater than 50 % risk of complications in wound healing, capsular contracture, and pain. Patients who undergo "expander/implant" type of breast reconstruction after radiotherapy have higher rate of complications than patients not receiving radiotherapy. However, no significant difference is found in general patient satisfaction with "expander/implant" between those who did and did not receive radiotherapy (31). Autologous fat transfer techniques in delayed breast reconstruction appear to be promising adjunct modality for patients with tissue expanders or implants and history radiation. A great improvement of tissue quality, with reduction of problems related to scarring and capsular contracture, improved contour modeling (axillary tail, cleavage, inframammaray crease) can be provided (32).
Expansion of indications for postmastectomy radiotherapy may affect the timing and the reconstructive options available, possibly decreasing the use of immediate reconstruction especially with implants (17, 33). Delayed reconstruction even with microsurgically transferred free TRAM flaps was recommended for those undergoing adjuvant radiotherapy because of the increased rate of such complications as fat necrosis, loss of flap volume, fibrosis and flap contracture (34). Unfortunately, for immediate reconstruction, it is often not known whether subsequent radiotherapy will follow.
Page 7
Microscopically positive margins in breast-conserving surgery and immediate reconstruction scenario poses special dilemmas (26). Many re-excisions result in a re-excision specimen in which no disease can be detected. Since the finding of microscopically positive margins after breast-conserving surgery is generally considered an indication for re-excision one has to ask whether segment of tissue flap adjacent to positive margins should be excised as well ? And, how about implanted devices ?  Emerging data suggest that patient with carefully scrutinized close or focally positive margins have low ipsilateral breast tumor recurrence rates after irradiation (35). Therefore, question arises whether radiation alone could suffice to control local disease ? Could tissue flaps delivered for breast reconstruction be re-elevated and used to deliver brachytherapy material ? (2, 36).
Targeted intraoperative radiotherapy (IORT) to replace standard postlumpectomy external beam radiation may also require application of plastic surgery techniques for breast conservation.  A photon radiosurgery system surrounded by a conical sheath with a sphere tip is inserted into the lumpectomy "cavity" at the time of tumor removal. The radiation consists of soft X-rays and very little radiation activity can be detected few centimeteres distally.  Intraoperative therapy is specifically targeting local tissue which surrounds the lumpectomy cavity (tumor site). Early results demonstrate lower local recurrence rates comparing IORT to external beam radiation results (clinical trials are underway).  Since in early trials, there have been a few patients developing local wound problems and final cosmetic result is still unknown, it is probable that plastic surgeons will be consulted for breast defect reconstruction, especially in higher risk cases with superficially location of primary tumor (and radiation source) (37,38).
Given significant rate of postradiation complications impacting aesthetic outcome, saline inflatable, and in particular volume-adjustable implants, seem to be a more logical implant choice for reconstruction of the breast mound if one decides to proceed with the initial (temporary ?) stage of reconstruction prior to radiotherapy. The partial saline inflatable/partial silicone filled device (Becker type of implant) and form-retaining implants offer technical advantages useful to overcome texture and contour problems (39). Permanent or temporary reduction of an implant volume may be helpful in the management of pain or wound healing problem, temporary overexpansion may be helpful in preventing or managing effects of radiation fibrosis (39).
However, considering all arguments pros- and cons-, autologous tissue breast reconstruction seems to be preferred immediate breast mound reconstruction option for women with a significant probability of postmastectomy radiotherapy by reconstructive surgeons. Excellent local and regional disease control and satisfactory cosmetic results by autologous tissue breast reconstruction are consistently  reported (1,33,34,39).
Relatively, little evidence exists regarding fears that chemotherapy might affect healing and both induction and adjuvant chemotherapy may impact results of reconstructive procedures (40). It was found that induction chemotherapy slightly prolonged the interval
Page 8
to postoperative chemotherapy in patients with locally advanced breast cancer, however, no effect on survival associated with this delay was noted (40,41).  Immediate breast reconstruction seem not to delay the start of adjuvant chemotherapy (42).
EMERGING BREAST RECONSTRUCTIVE TECHNIQUES AND CANCER RISK
Historically, diagnostic and therapeutic advances in the breast cancer management were impacting reconstructive approaches. Although there is consensus that surgical reconstructive procedures do not impact negatively results of mastectomy as the mainstay of the primary breast cancer treatment, however, questions are raised whether new emerging reconstructive modalities such as fat transfer, stem cells and tissue engineering affect malignancy risks. It appears that in post-mastectomy patients who received radiotherapy, autologous fat grafting in addition to "traditional" now tissue expander and implant breast reconstruction achieves better reconstructive outcomes with the creation of new subcutaneous tissue, accompanied by improved skin quality of the reconstructed breast without capsular contracture without negative impact on oncological outcome. Fat injection to the breast itself was not accepted until very lately. Beneficial effects of fat transfer is attributed to the angiogenic capacity of preadipocytes, or stem cells, in the fat (32). Regarding stem cells themselves, preliminary experimental and clinical studies indicate that adipose-tissue derived stem cells injected to correct limited (postlumpectomy or postradiation) breast defects or seeded on scaffold structures to form mini-implants may be useful in breast reconstruction. Studies are underway to demonstrate that fat-derived stem cells taken from a breast cancer patient behave biologically no differently than those from healthy women. Moreover, it has to proven that stem cells do not activate or differentiate to cancer cells themselves (43).
ONCOLOGIC FOLLOW-UP AND IMAGING OF THE RECONSTRUCTED BREAST
There are no standard practice guidelines for follow-up and imaging of the reconstructed breast (3).  In addition, surgical follow-up is often neglected when the plastic surgeon takes over the reconstructed breast management. Mammographic surveillance after breast conservation surgery is recommended. However, difficulties associated with interpretation of mammograms after local surgery and radiotherapy should be expected (44,45). Differential diagnosis may be difficult due to residual hematoma, scarring, fat necrosis, skin and fascia thickening, increased and non-homogenous soft tissue density in the breast, microcalcifications. Certainly breast tissue "re-arrangement" for reconstructive purposes may only result in even higher rate of false positive and false negative mammograms. Many institutions have adopted screening mammography after implant or autologous tissue reconstruction, thus enabling the same mammographic "look" of the skin, chest wall and remaining breast tissue as would be done for a women who has not had mastectomy (45,46). Mammography could be also useful for identifying a postoperative complication or implant failure and for differentiating such complications from local recurrence.  Mammography of the postmastectomy breast reconstruction has
Page 9
not been routine for most patients although some suggest that it should (45).  A reported case of local recurrence involving flap tissue reaffirms the notion of a need for diligent oncological follow-up and evaluation even of tissue delivered to the breast area (47).
For difficult radiated reconstruction, newer use of contrast-enhanced magnetic resonance imaging or PET scanning enables differentiation of recurrent tumors versus scar or fat necrosis (48,49).  For the implant reconstruction, many centers recommend a quick single view  mammogram just so the chest wall can be better evaluated.  However, evolving, more complicated techniques such as MRI can be used to evaluate both for recurrence and implant status (18,47,50). A study comparing the sensitivity and specificity of clinical examination, screening ultrasound, and screening MRI in detecting local recurrence in patients who underwent mastectomy for invasive breast cancer. It was found that the sensitivity and specificity for clinical examination alone was poor (70% and 35.2% respectively) but could be significantly improved by the use of ultrasound (90 % and 88.2% respectively) or MRI (100% and 100 % respectively)(50). Considering that ultrasound is relatively inexpensive, easy to repeat procedure and since most of  recurrences occur in the quadrant of the original primary tumor, directed, focused frequent ultrasound follow up examination may be warranted (18,50).
As to physician follow-up, the plastic surgeon who performs breast reconstruction must become skilled and attentive to the follow-up exam of the breast cancer patient. Anything suspicious or worrisome must be further examined.  On the other hand, the surgical oncologist must not assume that new areas of thickening, fullness, mass, pain, etc., are just due to the breast reconstruction; these findings should be treated with the same level of cancer suspicion as the same findings in the non-reconstructed breast.
Page 10
REFERENCES
Dobke MK, Wallace AM. Breast reconstruction after mastectomy. In: Oncology for the General Surgeon, Moossa AR (ed.), UCSD School of Medicine, San Diego, 75 – 85, 1994.
Edney JA.  Breast cancer-treatment for the future based on lessons from the past.
Am J Surg 184: 477 – 483, 2002.
National Comprehensive Cancer Network: Update: NCCN practice guidelines for the treatment of breast cancer. Oncology 13: 187 – 212, 1999.
Dobke MK, Wallace AM. Impact of controversies in breast cancer treatment on reconstructive approaches. Przew Lek 39: suppl 1: 65 – 67, 2002.
Mielnicki LM, Asch HL, Asch BB. Genes, chromatin, and breast cancer: an epigenetic tale. J Mammary Gland Biol Neoplasia 6: 169 – 182, 2001.
Schragg D. Life expectancy gains from cancer prevention strategies for women with breast cancer and BRCA1 or BRCA2 mutations. JAMA 283: 617 – 624, 2000.
Boughey J, Hoskin T, Sellers T et al. Contralateral prophylactic mastectomy is associated with a survival advantage in high-risk women with a personal history of breast cancer. Ann Surg Oncol 17(suppl 1), S29, 2010.
Woods JE. Breast reconstruction: current state of the art. Mayo Clin Proc 1: 579 – 585, 1986.
Meijers-Heijboer H, Van Geel B, Van Putten WLJ et al. Breast cancer after prophylactic mastectomy in women with a BRCA 1 or BRCA 2 mutation. N Engl J Med 345: 159 – 164, 2001.
Simmons RM, Osborne MP. Prophylactic mastectomy. Breast J 6: 372 – 379, 1997.
Blanchard DK, Hartmann LC. Prophylactic mastectomy for women at high risk of breast cancer. Breast Diseases 11: 361 – 363, 2001.
Newman LA, Kuerer HM, McNeese MD et al. Reduction mammaplasty improves breast conservation therapy in patients with macromastia. Am J Surg 181: 215 – 220, 2001.
Shrotria S. Single axillary incision for quadrantectomy, axillary clearance and immediate reconstruction with latissimus dorsi. Br J Plast Surg 54: 128 – 131, 2001.
Kroll SS. Surgical correction of deformities after breast-conserving therapy. Breast Diseases 10: 147 –149, 1999.
Losken A, Elwood ET, Styblo TM et al.  The role of reduction mammaplasty in reconstructing partial mastectomy defects. Plast Reconstr Surg 109: 968 – 975, 2002.
Peters GN. Breast surgery: a superspecialty or a subspecialty ? Breast Diseases 10: 26 – 28, 1999.
Page 11
Disa JJ, Cordeiro PG, Heerdt AH et al.  Skin-sparing mastectomy and immediate autologous tissue reconstruction after whole-breast irradiation. Plast Reconstr Surg 111: 118 – 124, 2003.
Vaughan A, Dietz J, Aft R et al. Patterns of local breast cancer recurrence after skin-sparing mastectomy and immediate breast reconstruction. Am J Surg 194: 438-443, 2007.
Laronga C, Robb GL, Singletary SE. Feasibility of skin-sparing mastectomy with preservation of the nipple-areola complex. Breast Diseases 9: 125 – 127, 1998.
Simmons RM, Brennan M, Christos P et al.  Analysis of nipple/areolar involvement with mastectomy: can the areola be preserved ?  Ann Surg Oncol 9: 165 – 168, 2002.
Rusby J, Brachet E, Taghian A et al. Microscopic anatomy within the nipple: implications for nipple-sparing mastectomy. Am J Surg 194: 433-437, 2007.
Nakagawa T, Yano K, Hosokawa K.  Cryopreserved autologous nipple-areola complex transfer  for the reconstructed breast. Plast Reconstr Surg 111: 141 – 147, 2003.
Smith LF, Tillman R, Rubio IT et al. Intraoperative localization after stereotactic breast biopsy without a needle. Am J Surg 182: 584 – 589, 2001.
Kass R, Kumar G, Klimberg VS et al.  Clip migration in stereotactic biopsy. Am J Surg 184: 325 – 331, 2002.
Singletary SE.  Surgical margins in patients with early-stage breast cancer with breast conservation therapy. Am J Surg 184: 383 – 393, 2002.
Unseitig A, Kobbermann A, Euhus D et al. Cavity shave margins: impact on re-excision and health care costs. Ann Surg Oncol 17(suppl 1): S57, 2010.
Kuerer HM, Singletary SE, Buzdar AU et al. Surgical conservation planning after neoadjuvant chemotherapy for stage II and operable stage III breast carcinoma. Am J Surg 182: 601 – 608, 2001.
Perez CA. Current perspectives in the management of the axilla in patients with stage T1 or T2 breast cancer treated with breast conserving therapy. Breast Diseases 11: 370 – 374, 2001.
Schwartz GF.  Breast conservation therapy: role, techniques, and controversies – a personal approach. Breast J 3: 242 – 245, 1997.
Giuliano A. Sentinel lymphadenectomy in breast cancer. J Clin Oncol 15: 2345 – 2350, 1997.
Kruegger EA, Wilkins EG, Strawderman M et al. Complications and patient satisfaction following expander/implant breast reconstruction with and without radiotherapy. Int J Radiat Oncol Biol Phys 49: 713 – 721, 2001.
Serra-Renom J, Munoz-Olmo J, Serra-Mestre J. Fat grafting in postmastectomy breast reconstruction with expanders and prostheses in patients who have received radiotherapy: formation of new subcutaneous tissue. Plast Reconstr Surg 125: 12-18, 2010.
Page 12
Morrow M, Scott SK, Menck HR et al. Factors influencing the use of breast reconstruction postmastectomy: A National Cancer Database Study. J Am Coll Surg 192: 1 – 8, 2001.
Tran NV, Chang DW, Gupta A et al. Comparison of immediate and delayed free TRAM flap breast reconstruction in patients receiving postmastectomy radiation therapy.  Plast Reconstr Surg 108: 78 – 82, 2001.
Papa MZ, Zippel D, Koller M et al. Positive margins of breast biopsy: is reexcision always necessary ? J Surg Oncol 70: 167 – 171, 1999.
Perera F, Chisela F, Engel J et al. Method of localization and implantation of the lumpectomy site for high dose rate brachytherapy after conservative surgery for T1 and T2 breast cancer. Int J Radiat Oncol Biol Phys 31: 959 – 965, 1995.
Baum M. Intraoperative radiotherapy following local excision of early breast cancer.  25th Annual San Antonio Breast Cancer Symposium. Abstract, 2003.
Vaidya JS, Baum M.  Clinical and biological implications of the Milan Breast Conservation Trial.  Eur J Cancer  34: 1143 – 1144, 1998.
Spear SL, Onyewu C. Staged breast reconstruction with saline-filled implants in the irradiated breast: recent trends and therapeutic implications. Plast Reconstr Surg 105: 930 – 942, 2000.
Recht A. Timing of chemotherapy and radiotherapy after breast-conserving surgery. Breast Diseases 8: 91 – 93, 1997.
Broadwater JR, Edwards MJ, Kugler C et al. Mastectomy following preoperative chemotherapy. Ann Surg 213: 126 – 129, 1991.
Allweis TM, Boisvert ME, Otero SE at al.  Immediate reconstruction after mastectomy for breast cancer does not prolong the time to starting adjuvant chemotherapy. Am J Surg 183: 218 – 221, 2002.
Kitamura K. Stem cell augmented reconstruction: a new hope for reconstruction after breast conservation therapy. Breast Cancer Res Ther 106(suppl 1), abstract 4071, 2007.
Ashkanani F, Sarkar T, Needham G et al.  What is achieved by mammographic surveillance after breast conservation for breast cancer ? Am J Surg 182: 207 – 210, 2001.
Dowden RV. Mammography after implant reconstruction. Plast Reconstr Surg 96: 119 – 121, 1995.
Leibman AJ, Styblo TM, Bostwick J. Mammography of the postreconstruction breast. Plast Reconstr Surg 99: 698 – 704, 1997.
Mund DF, Wolfson P, Gorczyca DP et al.  Mammographically detected recurrent nonpalpable carcinoma developing in a transverse rectus abdominis myocutaneous flap: a case report. Cancer 74: 2804 – 2807, 1994.
Bone B, Aspelin P, Isberg B et al. Contrast-enhanced MR imaging of the breast in patient with implants after cancer surgery. Acta Radiol 36: 111 – 116, 1995.
Schmidt RA.  Digital mammography: role in the future of breast imaging. Breast Diseases 6: 261 – 263, 1995.
Page 13
Yilmaz M, Esen G, Ayarcan Y et al. The role of US and MR imaging in detecting local chest tumor recurrence after mastectomy. Diagn Interv Radiol 13: 13-18, 2007.
Page 14
Photograph 1. A 53-year old female with multifocal left breast lobular carcinoma. Originally treated by mastectomy and postmastectomy radiation. The patient is prepared for the left breast reconstruction by means of a TRAM flap. The patient declined the right sided prophylactic mastectomy.
Photograph 2. Same patient as depicted on the photograph 1 three years later. The patient underwent right sided mastectomy for lobular breast carcinoma and reconstruction by means of the latissimus dorsi myocutaneous flap and an implant (TRAM units were  not available anymore). Notable significant discrepancy in symmetry and the overall appearance. This patient exemplifies the need for early identification of those who are  truly at high risk of developing breast carcinoma in their life-time..
Photograph 3. A 50-year old female with "Wise-pattern" (breast reduction) type premarkd incisions to remove centrally located, just cranial to the left nipple-areola complex T1 breast lesion (upper panel). Intraoperative photograph (central panel). Status post lumpectomy with breast recontouring utilizing Wise-pattern breast reduction technique and status post right-sided Wise-pattern breast reduction for symmetry.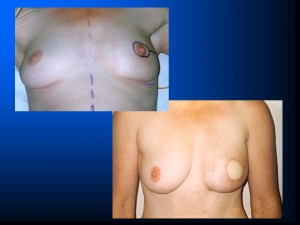 Photograph 4. Skin-sparing mastectomy and immediate autologous tissue breast reconstruction can be performed safely and with a relatively good result in a patient with previous whole-breast irradiation. Both myocutaneous latissimus dorsi flap and low profile silicone gel filled implant were utilized to complete breast mound reconstruction.